We Offer a Complete Line of Storm Protection Products.
Hurricane Secure Door Bracing for Garage Doors
Secure Door Can Help Protect Your Family and Home From A Hurricane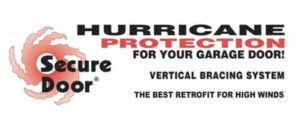 The Amount of Protection You Desire and Level of Speed.
Single Garage Door (7' high x 8' wide)
One Brace – Excellent
Double Garage Door (7' high x 16' wide)Three Braces – Excellent​
Two Braces – Good
Hurricane Protection at its Best!
HURRICANE SHUTTERS AREN'T ENOUGH IF YOUR GARAGE DOOR IS NOT PROPERLY PROTECTED!!!
Do you know…
The garage door is potentially the largest and weakest opening in many homes to a hurricane?
According to the Federal Emergency Management Agency, loss of the garage door was a major factor for homes damaged or destroyed in Hurricane Andrew?
Even with shutters, if your garage door fails, the full force of the hurricane will enter your home and possibly blow off your roof and seriously damage or destroy your home?
Regardless of the type and strength of your door, it is attached to the garage by only it's track!
A Secure Door® vertical brace is pictured at right on the inside of a typical steel garage door.
Made of high-quality aircraft-grade aluminum that is lightweight (14 lbs) yet incredibly strong.
Unique telescoping design enables the brace to fit almost all garage doors up to 8' in height.
Brackets attach to hinges to keep the door from being blown in or sucked out and are adjustable to fit behind any horizontal braces up to 6" deep.
Brace is anchored into the wall above the garage door, into the garage floor, and to each hinge, providing crucial reinforcement of the tracks
After initial set-up, installs in less than 5 minutes per brace when a hurricane is approaching.
Patented system that can be installed on almost all residential garage doors
Exceeds ASTM E330 and TAS202 wind speed standards
Selected by the University of Florida for their Windstorm Training Center hurricane model homes
Statewide Florida Building Code approved (FL6420) including for use in the High Velocity Hurricane Zone (HVHZ) of Miami-Dade and Broward Counties
*SECURE ENTERPRISES LLC ENCOURAGES THE USE OF 3 BRACES ON ALL DOUBLE DOORS. Two braces may be suitable in areas where wind speed requirements are 110 mph or below or when horizontal bracing is on the door with one brace per door panel.
Protection levels assume correct brace installation. Suitable for wind speed protection but not impact protection. Individual consumer results will vary with the age, size, condition, construction method, installation technique, and material used for the skin of the door where the braces are attached. Use of the Secure Door bracing system with thin skinned doors made of vinyl or single layer fiberglass as well as with wood doors with a lattice work frame and inset panels about 2' x 2' panels is not recommended. Continuous wood panel doors and steel doors are better candidates for protection.
The above guidelines are based on ASTM E330-90 test results on a new 7' x 16' rolled sheet steel door (0.0175" thickness) with no windows and with an estimated wind speed resistance capability of 70 mph. The same type door installed according to manufacturer's specifications and reinforced with three Secure Door® braces withstood in independent laboratory tests a maximum or test pressure equivalent to 180 mph wind speeds similar to gusts and a design wind speed pressures equivalent to between 140 and 150 mph (similar to sustained winds).
See Why Secure Screens Can Protect Your Family and Your Home