A sunroom brings the outdoors into the home, and here in the beautiful South Carolina Lowcountry this is an especially good thing. Being able to look out and see so much of the outside, sitting in a sunroom really is like sitting outside – with the added benefits of shelter from the elements and no insects or rodents. A comfortable and cozy room full of windows allows one to soak up the morning sun planning out the day ahead, perhaps with a cup of coffee. It's an excellent spot for enjoying a good book or taking an afternoon nap. It creates the perfect oasis for taking in a colorful sunset at the end of a busy day. A sunroom addition is a smart way to add incremental living space for entertaining, lounging and spending quality time together. And, the incremental square footage of a sunroom can boost home resale value.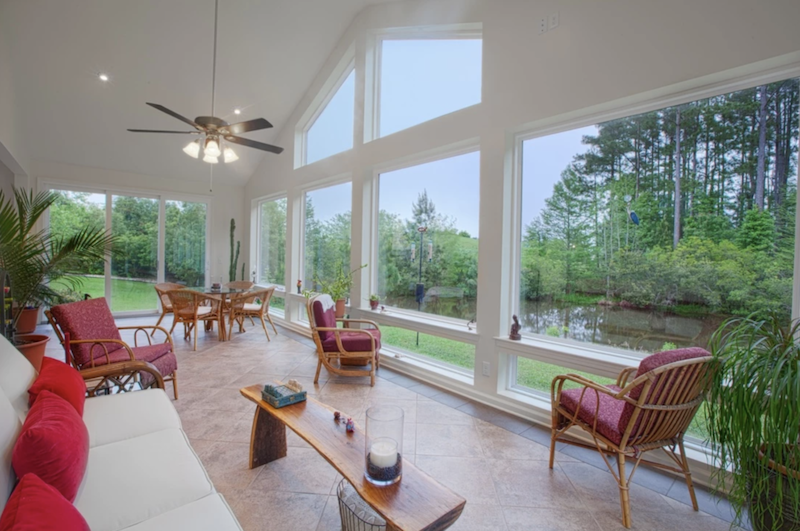 Custom Sunroom Additions
There are endless options in the construction of the modern sunroom. At CHS Coastal Homes & Sunrooms, we stay on top of industry trends and factor these into the knowledge we've gained building beautiful custom homes and home remodeling for over 20 years. We invite you to contact us to schedule a time to come see your specific space. We want to hear your vision! Then, we'll consider your space, sun exposure, home elevation and lifestyle to come up with the ideal sunroom for your home. In the meantime, consider some of our favorite sunroom iterations for inspiration:
Four Season Sunrooms
A four-season sunroom brings the outdoors in, but provides full shelter from the elements. Typically a four-season sunroom features heating and air. Glass doors can be used to segment off the space, or it can be left open to the interior of the home. The traditional four season sunroom has a shingled roof. We'll consider your existing roof line to determine if a gable roof, a single-slope roof or a full tie-in to your existing roof line makes the most sense. The walls are constructed of double-paned glass windows and doors, if desired. Ask us about our energy efficient glass options! We install screens so the space can be completely opened to the outdoor air.
Three Season Sunrooms
Three season sunrooms are not heated and cooled. Depending on where you live, these spaces may not be as comfortable during the most extreme temperature times of the year. Typically an exterior door solution is used to segment off the space from the rest of the home. You may choose to use single or double pane glass, with double pane providing a greater degree of temperature control. Like the four season sunroom, the roof line options include gable, single slope or full tie-in. Again, screens are used on the windows to allow for outside airflow when desired.
Our Approach to Construction
Having had the privilege of serving the greater South Carolina Lowcountry for over 20 years, we've established ourselves as an honest, trusted builder in the area. We apply the core principles of discipline and integrity to every build we do, bringing professional design skills and quality construction to each and every job. We've fully vetted all trade partners and maintain a team of highly qualified, customer-centric craftsmen. We're locally owned and operated so you can expect to see us actively involved throughout the project. And, if sunroom financing is a part of your plan, ask us about our home improvement financing program.
Dreaming of your perfect sunroom? Let's make it happen! Contact us today to get started.