Natural lighting offers numerous benefits, and adding a sunroom to your home will help you obtain those benefits on a daily basis. Whether it be the hottest days of summer, or the coldest days of winter, immersing yourself in the natural light provided by your sunroom will not only benefit your health but your attitude as well.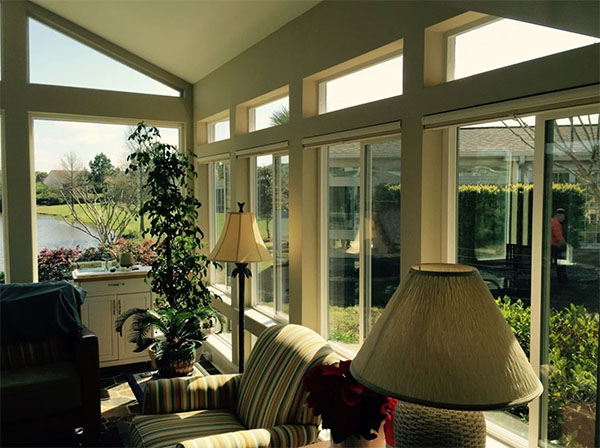 What are the benefits of natural lighting?
Natural lighting provides physical health benefits as well as more subtle, mood-enhancing benefits. Here are a few examples of what it can do for you:
Increases levels of Vitamin D, a critical nutrient for promoting healthy bones, as well as for reducing risk of heart disease, certain types of cancer, depression, and weight gain. Many of us have a deficiency when it comes to Vitamin D, and having more natural lighting in your home can help with this.
Wards off Seasonal Affective Disorder (SAD), which is a type of depression occurring when seasons change, usually during Fall and Winter. By simply having more ways to let the sunlight in during the darker months of the year, when the days are shorter, you can help prevent developing this disorder.
Reduces stress and anxiety. Thirty minutes of natural light streaming through your windows each morning creates calm and brings energy to your day.
Increases happiness. Natural light causes our bodies to produce both serotonin and endorphins, making us feel rested and happy.
Natural light is even said to help improve your vision, help you get a better night's sleep, and improve your productivity.
By adding a beautiful sunroom to your home, you will be providing an abundance of adequate natural lighting for you and your family. To get started, contact us today to schedule an appointment. Coastal Homes & Sunrooms will help you design the perfect sunroom to fit your lifestyle.